Made by Raffi is an original children's book written by Craig Pomranz, illustrated by Margaret Chamberlain, and published by Frances Lincoln Publishers.
You can find it in local bookstores or Order it online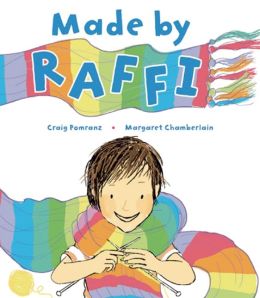 Raffi is a shy boy who doesn't like noisy games and is often teased at school. But when he gets the idea of making a scarf for his dad's birthday, he is full of enthusiasm even though the other children think it is girly to knit. Then the day draws near for the school pageant, and there is one big problem: no costume for the prince. And that's when Raffi has his most brilliant idea of all — to make a prince's cape. On the day of the pageant, Raffi's cape is the star of the show.
Reviews
"This book deserves to be in every school and read in every family for a whole plethora of reasons. It's bold, tackling gender issues that many adults might skirt around."
Read more
"A solid support for all children who don't fit an accepted mode of behavior."
Read more
"Vibrant, affectionate and inclusive, this is a book which celebrates difference and shows that being creative is cool."
Read more
"This story is a great advocate for creativity, demonstrating that differences should be celebrated as well as promoting the idea that everyone should have the confidence to be true to him or herself without fear of being made to feel inferior or being laughed at."
Read more