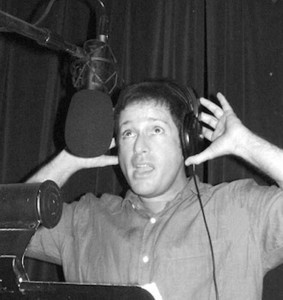 Craig Pomranz arrived in New York like a wunderkind. The city threw open its arms to the fresh-faced triple threat, and it wasn't long before he was playing to sold-out crowds at three clubs at once: Freddy's, East Five Three and Mickey's. He performed at Ted Hook's Onstage, The Duplex, The Ballroom, The Horn Of Plenty, and (pre-comedy) Caroline's. The public and other entertainers (like Peter Allen) were drawn to Craig's individualistic performances, marked by a sense of immediacy and risk, modeled after the classic nightclub acts of idols like Nancy Wilson, Sammy Davis, Jr. and Mel Tormé. He was so successful at packing venues, nightclub impresario Régine engaged him to create and debut the music room >Café Réginette next to her famous Park Avenue nightclub, Régine's. Craig's archival press kit contains a stack of flattering articles and blurbs from every major New York newspaper, and magazines including GQ. Journalists consistently reported the same qualities: Craig's passion, his connection to the crowd, the mellifluous tenor, his understanding of the content and how to communicate it, and his accessible and varied repertoire, always fresh.
Then, just as quickly as his star rose, Craig seemed to switch his focus away from the limelight and onto successful ventures in studio work, commercials, and voiceovers. He became a highly sought-after studio singer, and worked frequently with composer/artists signed to Arista records. He recorded with Barbara Cook and Faith Prince, among others, and contributed to cast recordings for The Secret Garden, Rags and Breakfast at Tiffany's to name a few. His acting and dance skills led to a series of commercial bookings as a dancing can. 'What can I say?' laughs Craig, 'It was a trend. Pringles, Pepsi… aftershave… if the product was in a can, there was a period when I was in that can, dancing my tuchas off.' The development of Craig's studio agenda marked a departure from the nightclub scene that lasted many years. What caused his retreat from the limelight as he seemed poised to grab the brass ring? Craig smiles and says, simply, 'I always had more interest in the work and not the fame, and I really wanted to focus on building a well rounded life.'
It must have worked. Craig is warm, comfortable, self-effacing and charming; the excitement he has for music is palpable. He recently returned to the nightclub scene, albeit a much different one than he left. Hearing him sing, whether in person or on his CD, My Heart Don't Skip A Beat, you're treated to a dazzling voice, and a way with the audience that's descended from a great saloon style. His performances in support of My Heart Don't Skip A Beat have created a buzz for more, with hotly anticipated return bookings at both the Metropolitan Room in Manhattan, and The Gardenia in Hollywood in the coming months. Completely without artifice, his straightforward approach to entertaining is like a breath of fresh air. How does Craig explain his unencumbered manner in a business fraught with labels, gimmicks, and raw emotion? Craig says, 'One of my attractions to performing is the ability to create silence. I think that silence comes from an authentic connection with the audience and cannot be forced with emotional or vocal pyrotechnics. That kind of intimacy with an audience energizes and deeply moves me.'
He learned that power as a child in St. Louis, the youngest of four sons in an orthodox Jewish home. Craig was in elementary school when he discovered he could overcome his tremendous shyness through music. His parents encouraged him with theater classes in the basement of the Tropicana Bowling Alley. Energized by his visceral reaction to singing, acting and the effect he could have on an audience, Craig, on his own, began looking for professional work. He auditioned along with more than 800 other children for Camelot at The Muny (the nation's oldest and largest outdoor theater) and won the role of Tom of Warwick opposite John Cullum and Sally Ann Howes, thus launching a professional career which soon included singing, acting, modeling, voiceovers and commercials. Mentored at the St. Louis JCCA until university by director/teacher/actress Lynn Cohen (known for her roles as Magda on Sex and the City and Golda Meir in Spielberg's Munich), Craig developed his skills, along with a deep respect for the profession. Craig's nightclub style was influenced by the performers he watched on musical variety shows like The Ed Sullivan Show and The Carol Burnett Show, as well as the live performances of frequent visitors to St. Louis like Sammy Davis Jr. and Liza Minnelli. The eclectic mixture of their material and the air of spontaneity they brought to the stage are some of the characteristics Craig admired and began to absorb. He experienced an indelible ah-hah moment watching Minnelli, who fooled him when she spontaneously removed her false eyelashes in the 90+ degree St. Louis heat one evening at The Muny. Young Craig, who saw her show every night, was shocked to discover the next evening that her eyelashes were removed 'spontaneously' every night at precisely the same time.
Still in high school, Craig attended Broadway plays and musicals on junkets with his theater class. On these trips he often sneaked out of his room at The Edison Hotel in Times Square after curfew, and into piano bars like The Painted Pony and The Village Green. He sat, captivated, as pianist/composers like Johnny Meyer and Murray Grand held court. On one of these nights, after Craig sang 'Over The Rainbow,' a tiny woman laid her hand on the young truant's arm and said, 'Some people need to sing. You are one of those people. I could listen to you forever.' Craig's petite admirer was the mesmerizing singer Teddi King, who became his pal and champion briefly before her death. Craig moved to Manhattan with scholarships from both The José Limón Dance Company and Harkness Ballet, challenging the popular rumor that Jewish boys don't dance. He shortly began his conquest of the nightclub scene. During Craig's early years in New York City, one of his fiercest champions in the press was the late Curt Davis, writer/critic for The New York Post and a founder of the Manhattan Association of Cabarets. Davis became a friend and a mentor to Craig, and his passing was a great loss to New York nightlife, and a tremendous personal loss to Craig. It was around the time of Davis's death that Craig turned his focus to other avenues of expression and personal growth.
Thankfully, Craig's interest in recording was piqued by the many fans and friends who continually pressed him for a CD. Enlisting the assistance of director/actor/critic (and former city editor of Women's Wear Daily) Ron Cohen – husband of mentor, Lynn – Craig recorded My Heart Don't Skip A Beat for his own label (PREVIS). My Heart Don't Skip A Beat (arranger – Barry Levitt) is a winner; the CD has been lauded by press and audiences all over the U.S. and across the Atlantic, receiving nationwide radio airplay in a variety of formats. Craig has been interviewed on WOR 710 AM NY, Pacifica Radio's WBAI, St. Louis's WEW 770 AM, WSSM and KDHX, among other US stations. In London, UK the CD and Craig have been featured on LBC's The Angela Rippon Show (Ms. Rippon is known as the Barbara Walters Of London), The Lee Stevens Show and the BBC's Ned Sherrin's Loose Ends. His version of the 'Close Your Eyes,' which he learned from Doris Day, landed him a featured spot on Discovering Doris, the most visited and authorized website for Doris Day devotees. Craig is currently rehearsing not one, but two CDs: a holiday CD with a twist, and another that will reflect his style of understated saloon cool.
'What singers do is the riskiest, sexiest thing,' says Craig, and he reminds us that Doris Day's recording of 'Sentimental Journey' was banned from radio because it was too intimate. His admiration for singers like Day and Frank Sinatra is rooted in their willingness to take chances, their intelligence and their superb musicianship. Craig studies the singers he loves, and searches for unique material among the thousands of songs in the American Songbook, and elsewhere, which are not 'over-exposed.' As always, the origin, age, or era of a song doesn't matter to Craig, just the answers to some simple questions: will his voice, the melody and words converge to affect and please the audience? Will he create silence? 'As a dancer, I was trained to hit the mark,' says Craig. 'As a singer, that moment is my mark.'